THIS BEAR IS A GENTLE GIANT: The soft fur covers a plush interior that people love to squish with big bear hugs.
GIFT FOR ALL OCCASIONS: Send a personal message along with your gift using our comments section during checkout. Don't think this one is the right fit for your loved one? That's ok. We have plenty of colors and sizes.
QUALITY AND SAFETY TESTED: Our bears receive the Pennsylvania stuffed toy certificate after making sure there's NO contaminants and hazardous material. We do this extra step for your safety.
Nothing beats the original brown teddy bear! Standing nearly as tall as a basketball player, he's sure to be the perfect cuddling companion for that special someone in your life. Nothing will put a smile on their face faster than the sweet cuddly grin of a teddy bear. One glance reminds you of the simple things in live, and transports you to a time of innocence and carefree fun. Still not convinced? Check out our blog post for even more reasons why this giant teddy is the perfect gift for that special someone.

Kid Friendly: Stuffed with 100% new polyester.This material is new every time. You can be sure it's free of dangerous chemicals. Pennsylvania gave us the illustrious stuffed toy certificate to ease your mind about your child's safety.

EASY Cleaning: Give your bear a gentle bath with soap and water to make him feel like new again. For more difficult stains, check out our blog for more cleaning tips.

By the numbers: Height- 78", 6.5 ft., 200 cm; Weight- 18.7 lbs, 8.7 kg; Materials-Polyester stuffing and velour outer coat.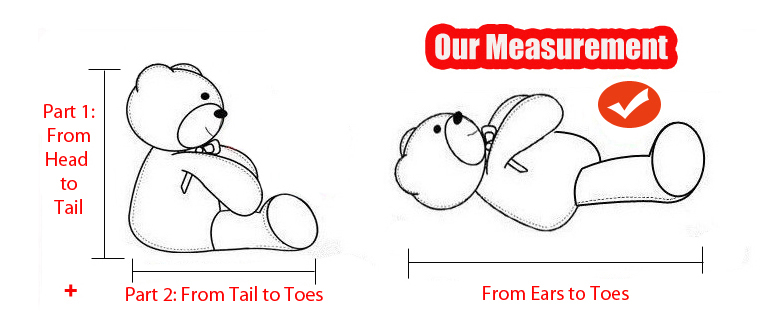 | | |
| --- | --- |
| Shipping origin | Ohio or Nevada |
| Processing time | 1 ~ 2 business days |
| Shipping time | 2~5 business days(Fedex Ground or USPS) |
Models: