GIANT BEST BEAR FRIEND: At 78" tall, this teddy towers over other bears. That cheeky smile and sparkling eyes will melt your heart and have you giving big bear hugs in no time.

GREAT GIFT: Teddy bears are great fun for all ages. That soft brown fur begs to be hugged. Giving it as a gift? Personalize a message using our comments section during checkout.

SAFE FOR KIDS: Our bears receive the Pennsylvania stuffed toy certificate. This means they undergo testing to make sure there's NO contaminants and hazardous material. This means it's SAFE for your kids. The stuffing is 100% new polyester and the fur is made of soft plush Velour.
He's a Friend and a Confidant..
You're never too old to love your teddy. Nothing makes you feel young again than a sweet innocent friend that won't judge for getting a little older and little wiser. This lovable giant will steal your heart and a few hugs along the way. Plus, he's like a fine wine. He only gets better with age. All of his little imperfections will tell the story of your lives together. Start working on your story today.

100% GREEN and certified SAFE: Stuffed with polypropylene cotton an all new material free of harmful chemicals. Our bears pass the Pennsylvania stuffed toy certification process so you know they are the best of the best.

Soap and Water Cleanup: EASY to clean with only wash cloth, soap, and water. Adventures get a little out of hand? Check out our blog to get out those next level stains.

The technical stuff: 78", 6.5 ft., 200cm; 18.7 lbs, 8.7 kg; Polyester stuffing and velour outer coat.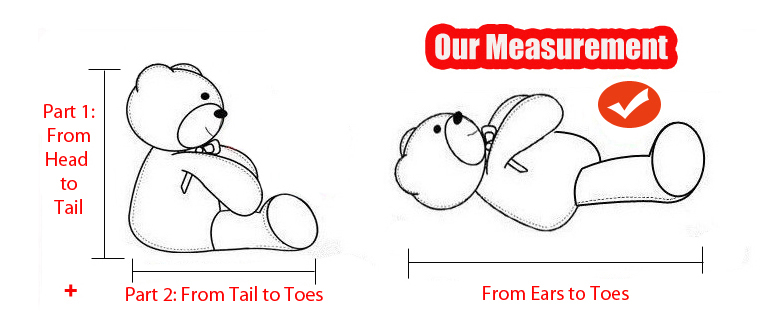 | | |
| --- | --- |
| Shipping origin | Ohio or Nevada |
| Processing time | 1 ~ 2 business days |
| Shipping time | 2~5 business days(Fedex Ground or USPS) |
12 Reviews
Very happy with the final product!

Bought it for my niece! she absolutely loves it! she is 3 years old.

Good Quality + Quick Shipping

Came within a week. My baby loved it.

Great Quality, Fast Shipping, Very Pleased

I ordered this bear for Christmas for my grandson. Placed the order 3 1/2 wks. prior and it came within 3 days! The box was smaller and lighter than I would have thought and manageable to move. The only drawback was the words "bear" written on the box so I needed to blacken that out.
Finally, I was able to see it being opened (after weeks of wondering what it would look like) and it was amazing to see a huge, quality bear emerge from the box. My grandson was ecstatic and I was impressed.

This is an amazing bear! Ordered it as a Christmas wish list gift for my 14-yo son and he loves it! The shipping was so fast and efficient. Customer service who I spoke it was very courteous and professional. Package was secured. I am just thankful for the great shopping experience, and of course, having the softest and cuddliest bear for my son is a huge plus in my books! Thank you guys!

Hello,I would like to thank you for your speedy delivery.My granddaughter is delighted and cannot put down the bear.
Thanks again,
We will shop with you again,
Merry Xmas.

Yes we received our bear! We are happy with our purchase and will have fun making memories with our new friend.

good nice shipping and overall nice product

awesome shiping and fun to cuddle with only thing is that the name is on the box i coverd it up with ductape

Extremely fast shipping. Great price. My girlfriend absolutely loves it. I just wish it didn't say what it was on the box. Almost killed the surprise.

Great quality and Really quick shipping!

It arrived on the first expected day so that was a surprise! My girlfriend and all her little cousins love it so much! My only complaint is that the box told what was inside so it wasn't as big of a surprise as I wanted it to be. But other than that, everything is great! Thanks so much!