MORE TO LOVE: The Joyfay teddy bear weighs in at 6.5 feet and 18lbs. No light weights here. This heavyweight offers more huggability than your average bear. Kids and adults alike love to cuddle up with the soft silky giant.

EASY TO CLEAN: Most stains will come out with just soap and water. Check out our blog for more tips on cleaning up after your adventures.

HIGHEST STANDARDS: All Joyfay Teddy Bears receive the prestigious Pennsylvania stuffed toy certificate. They undergo rigorous safety testing, so you know there are NO harmful chemicals or safety hazards. We only provide the best of the best!

There's no age limit on having a teddy bear for a best friend. Their loyalty and companionship never age. never falter.Teddy bears are with you through the best of times and the worst of times always lending an ear and never spilling your secrets. Our giant bear will be with you through all that life throw your way. Go ahead and throw your arms around him for a super sized hug. It makes him smile too.

So much more to love…78", 6.5 ft, 200cm….anyway you phrase these life sized giants prove bigger is better.

Easy to clean and 100% green…The giant teddy bear can withstand any sort of adventure just use a little soap and water, but not too much, teddy bears never did like baths.The outer coat is a super soft velour, and the stuffing is 100% new polyester. Even the bow tie is detachable for quick and easy clean up.

CLEAN and SAFE…All Joyfay Teddy Bears receive the prestigious Pennsylvania stuffed toy certificate after extensive quality and safety testing to make sure they are safe for kids.

Arrives when you need it…Expedited shipping is available from our warehouse in the US. Your teddy bear will be shipped from our warehouse with an estimated delivery time of 2-7 business days to most locations.

Make your gift even more special…Send a personalized message to your loved ones using our comments section during checkout. Let them know you are thinking of them.

Love-Me-For-Sure-Guarantee...Your Joyfay teddy bear is the perfect gift for that special someone in your life! However, if something is not quite right please contact us. We strive to make sure you are completely satisfied with your Joyfay purchase.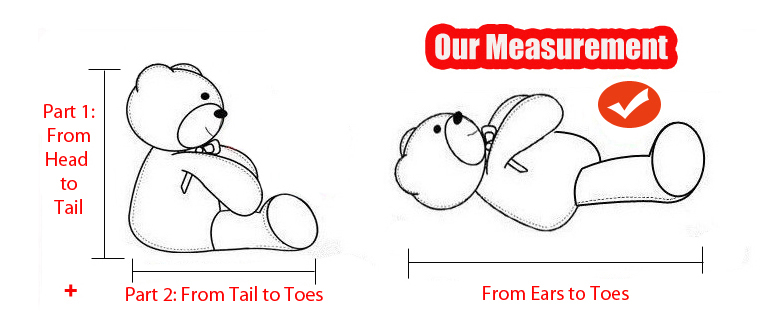 | | |
| --- | --- |
| Shipping origin | Ohio or Nevada |
| Processing time | 1 ~ 2 business days |
| Shipping time | 2~5 business days(Fedex Ground or USPS) |
22 Reviews
Shipping was crazy fast, especially for the week before Christmas...just 2 days! Easy to contact customer service. The bear is enormous and has the perfect amount of stuffing for cuddling with! The only thing that could be improved, in my opinion, is the fur could be thicker. The bear is very soft but there are some places where the fabric below can be seen...like the rows of fur aren't stitched close enough together. It doesn't look bad but the bear would be even better if it was furrier. Its great quality for the $ though, and my teenage daughter absolutely loves it! Definitely recommend.

We love our big bear! Highly recommend

What an amazing gift! My daughter loves this beat and I have to admit so do I. It is so soft and it is enormous! Great shipping and customer service as well. Thank you!

I absolutely love this. My fiance got it for me for valentine's day and it's perfect. Way bigger than me. Good 7 ft almost.

Birthday valentine gift in one

Was very pleased with my kings reaction when it arrived. She loves it.

real nice

Got the bear in 2 days after shipping and completely love it, kinda grew attached to it and it's almost my girlfriends birthday, now I kinda want to keep it for myself, one of my best purchases ever!

This bear was better than I expected. The delivery was fast

Great product, fast shipping. Could've have gotten a better product.

Great product great customer service and delivery was very accurate!!

Fast shipping and very accurate customer service. Was skeptical about product but once it was received its huge and very good quality extremely worth the money!!!